Haines Hunter
Australia's most famous trailer boat brand is now at Boats & More
Drawing on over half a century of boat manufacturing experience, Haines Hunter has a deserved reputation as the most respected fibreglass boat brand in the Southern Hemisphere.
Creating Australia's greatestest boats is second nature for Haines Hunter, with there award winning construction methods.
With over two dozen trailerable models – from dedicated fishing boats to family/cruising and sports boats – in its award-winning range, the build quality and attention-to-detail in every Haines Hunter boat is second to none.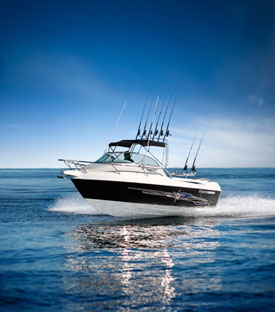 Only premium quality materials and fittings are used throughout and all hulls are backed by a full seven-year structural warranty.
Setting the benchmark to which all other manufacturers aspire, Haines Hunter's reputation for excellence stems from its unwavering focus on research and development, cutting-edge design, advanced construction techniques and unparalleled on-water performance.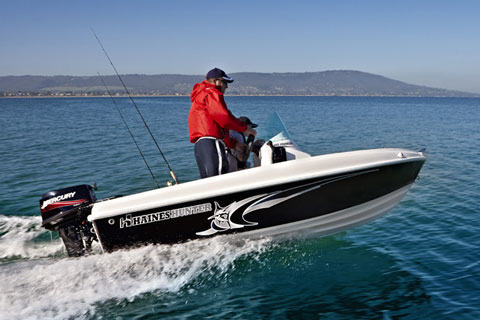 4.00m – Length
1.70m – Width (Beam)
260kg – Weight: Boat Only
40 Horsepower
The Prowler range of boats has long been synonymous with people who favour to fish from a centre console. Haines Hunter would like to introduce the smallest model in the range, the newly designed 400 Prowler. Following in the footsteps of the larger models, the 400 Prowler will certainly rank highly on safety, performance, value for money, fishability and innovative design. With standard features like a moulded front windscreen, an ergonomically designed console which will take some of the industries larger electronic components, all stainless steel hull componentry and a wide flat floor, Haines Hunter know what it takes when it comes to upholding the reputation for outstanding quality and finish.
5.30m – Length
2.10m – Width (Beam)
500kg – Weight: Boat Only
115 Horsepower
The 525 Prowler is the ideal choice in centre console fishing boats. Capable of being towed by the large family sedan, it comes rigged and ready for a day on the water at your favourite fishing location. With our unique SSM (Structural Safety Matrix) system backed by our 7 year structural warranty, a 125 litre fuel tank and a newly designed console, this boat really makes the maximum use of the available space. The 525 Prowler is purpose built for offshore action and its full walkaround capability means you can follow the fish around the boat.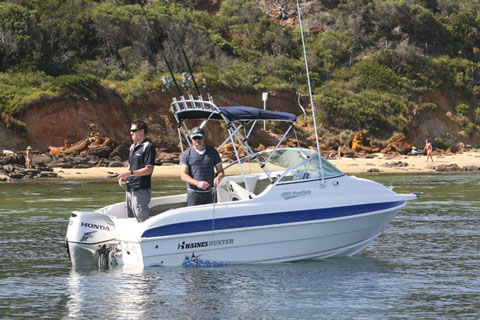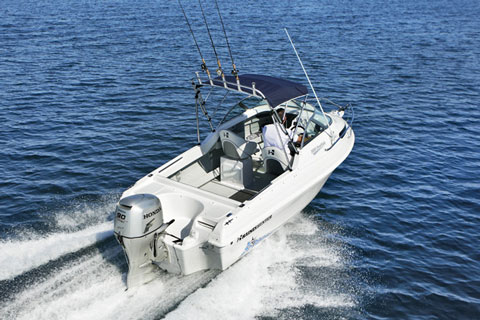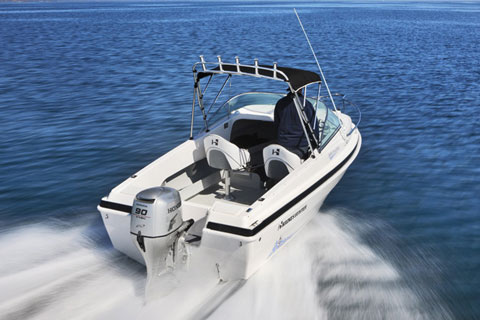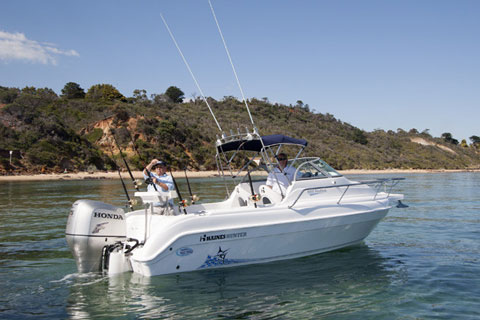 4.95m – Length
2.10m – Width (Beam)
2.00m – Height
500kg – Weight: Boat Only
90 Horsepower
Another great entry level model, the 495 Profish represents excellent value for money. For the average Aussie family in the market for an all-round fishing and family boat, the 495 Profish offers first class boating at a grassroots price.
This neat little cuddy cabin offers more comfort than you might expect from a boat this size, without sacrificing utility. The 495 Profish weighs in at approximately 500kg and is rated to 90 horsepower, with a 95 litre fuel tank (optional).
This model comes standard with rear quarter seats, anchor well, swivel seat slides, ergonomically designed dashboard, sports steering wheel and rod holders.
6.40m – Length
2.40m – Width (Beam)
1,150kg – Weight: Boat Only
230 Horsepower
The 600 Profish has been designed purely for fishing, with the ability to accept single or twin engine application. As a bare bones package it's ready to head offshore to chase pelagic species, or option it up to create a comfortable family boat.
Offering all the benefits synonymous with the Haines Hunter brand, the 600 Profish is competitively priced to get you to your favourite fishing spot and back safely, without breaking the bank.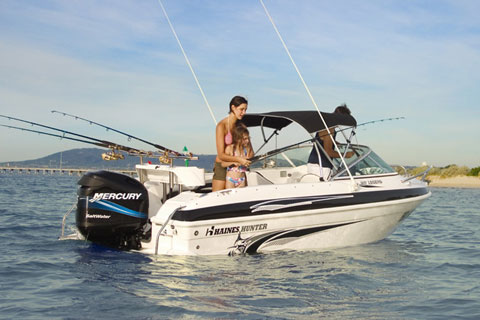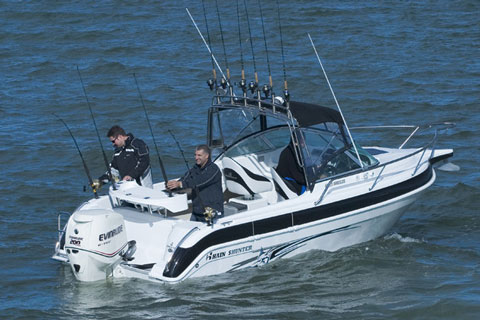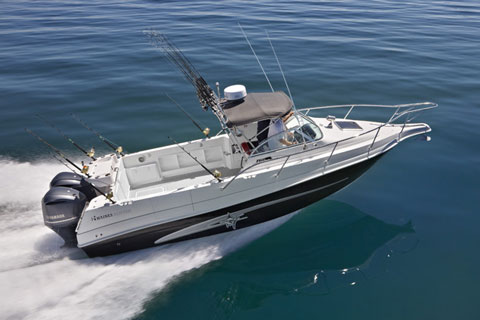 5.20m – Length
2.10m – Width (Beam)
1.70m – Height
560kg – Weight: Boat Only
130 Horsepower
The 520R is a great entry level family boat that will tick all the boxes. Not only is the 520R perfect for the bay or estuary, but this model also has offshore capabilities. With a full walk through windscreen, you'll have easy access to the anchor at any time.
The whole family will love this great little runabout. The 520R comes with a great list of standard features including swivel bucket seats on pedestals, cup holders, underfloor fuel tank, bait wells, non-feedback mechanical steering and easy access to the anchor at all times.
8.20m – Length
2.50m – Width (Beam)
2.80m – Height
1,750kg – Weight: Boat Only
350 Horsepower
Incorporating all of the benefits synonymous with the Haines Hunter brand, the 760R range has been designed specifically for serious anglers, with a standard hardcore fishing package. Haines Hunter has also designed these boats to allow many customisation options to suit various applications.
With an outboard power rating up to 350hp for the standard model, and a 500L fuel capacity, the 760R certainly has the ability to get all onboard to the fishing grounds and back, with ease.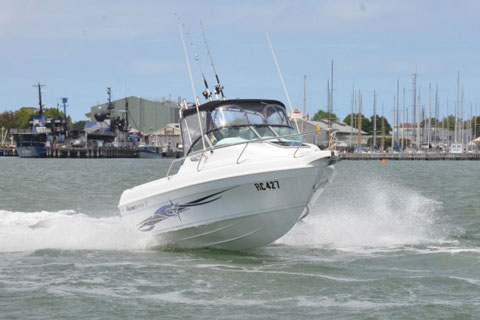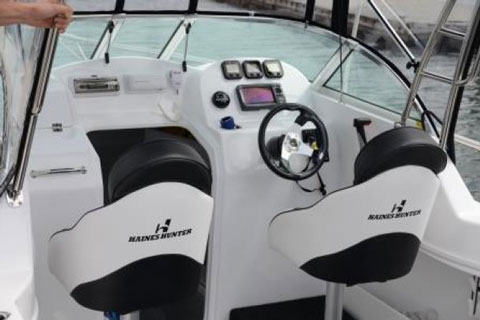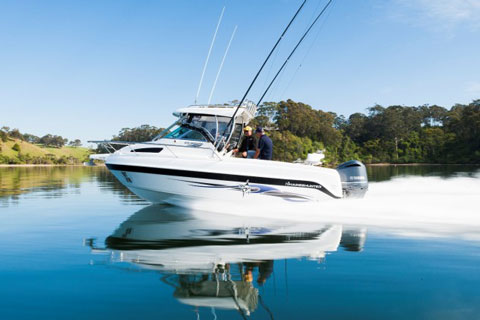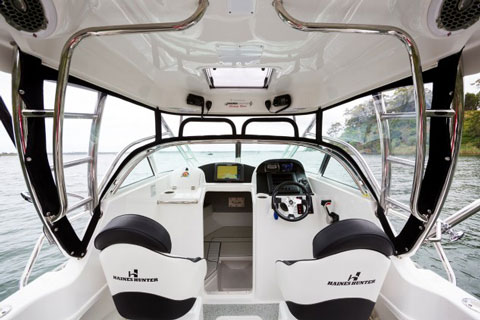 5.65m – Length
2.40m – Width (Beam)
2.30m – Height
720kg – Weight: Boat Only
150 Horsepower
After two years in research and development at Haines Hunter's state of the art manufacturing facitily, the launch of the all new 565 Offshore has been designed to balance Fishing and Family, adventure and leisure and in many cases husband and wife all in one boat.
This Family all-rounder that ticks all the boxes for family fun on the water while doubling as a well equipped and functional fishing vessel.
675 Hard Top Specifications
6.75m – Length
2.40m – Width (Beam)
2.20m – Height
1,300kg – Weight: Boat Only
230 Horsepower
Incorporating Haines Hunter's 21° Performance Deadrise (PDV) hull, the 675 Offshore Hard Top delivers Superior Performance and handling – proven during rigorous testing in both inshore and offshore conditions. The Hard Top has been designed for the Offshore fisherman that love the convenience of adding & removing clears but want the protection and convenience of a fully moulded Hard Top.
The Hard Top caters for a broad range of serious offshore fishing requirements right around the country. The 675 Offshore Hard Top also features a fully customised moulded dashboard and a dive door which is fast becoming a must-have for keen offshore boaters. Capable of fishing six large adult anglers in comfort.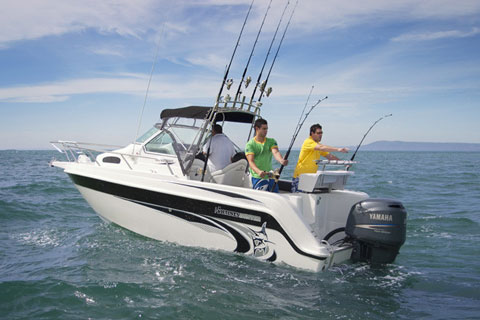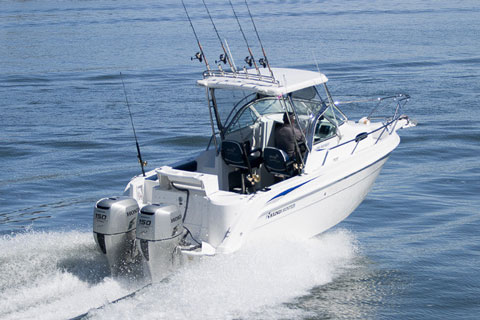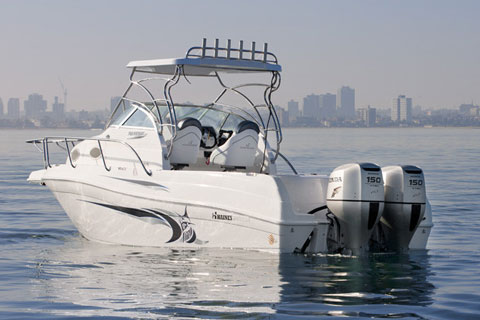 7.00m – Length
2.50m – Width (Beam)
2.50m – Height
1,500kg – Weight: Boat Only
300 Horsepower
The 680 Patriot has been designed with one purpose in mind. Serious offshore fishing.
Rated to 300hp, this blue water warrior is ready to go anywhere. With an extra-heavy hull and self-draining deck, this walk-around model also features a huge cabin to escape the elements. Factory-ready for single or twin engine applications, the 680 Patriot also boasts a huge 350Lt or 500Lt fuel capacity. Known for constructing Australia's best offshore fishing boats for over 50 years, Haines Hunter's Patriot range is no exception.
8.20m – Length
2.50m – Width (Beam)
2.80m – Height
1,850kg – Weight: Boat Only
350 Horsepower
The 760 Patriot features an ergonomically designed dash, massive live fish tanks, huge freeboard with huge fishing space and room to sleep four, your mates will be clamouring to join you on your next fishing expedition.
The 760 Patriot is available in either twin or single outboard application.
Call us or visit our stores for friendly advice on any of our products or services
Shepparton (03) 5822 2108 or Echuca 5482 1992