SUPRA BOATS
Make no mistake about it, there's an athlete in every Supra boat. From the Team Supra riders who dominate competitive wakeboarding at the highest levels, to the everyday Supra owners—from six to sixty years old—who simply want to show off their talent with every ride. With their innovative styling, luxurious interiors, superior construction and unsurpassed wake performance, Supra boats are engineered to unleash everyone's inner athlete.
That's why Supra – and Supra riders – have been at the top of the inboard industry since 1980. Always strive for a personal best. Always reach new heights. Always soar to new levels. Leave a wake wherever you go. That's the Supra spirit.
Supra SA
One ride behind the 2017 Supra SA, and the essence of precision engineering becomes explicitly clear. One look at its bold design and you'll ask yourself how such beautiful form can have so much function. This combination is why the SA is revered by the pros, and also why we chose the SA to be the official towboat of the 2016 Supra Boats Pro Wakeboard Tour.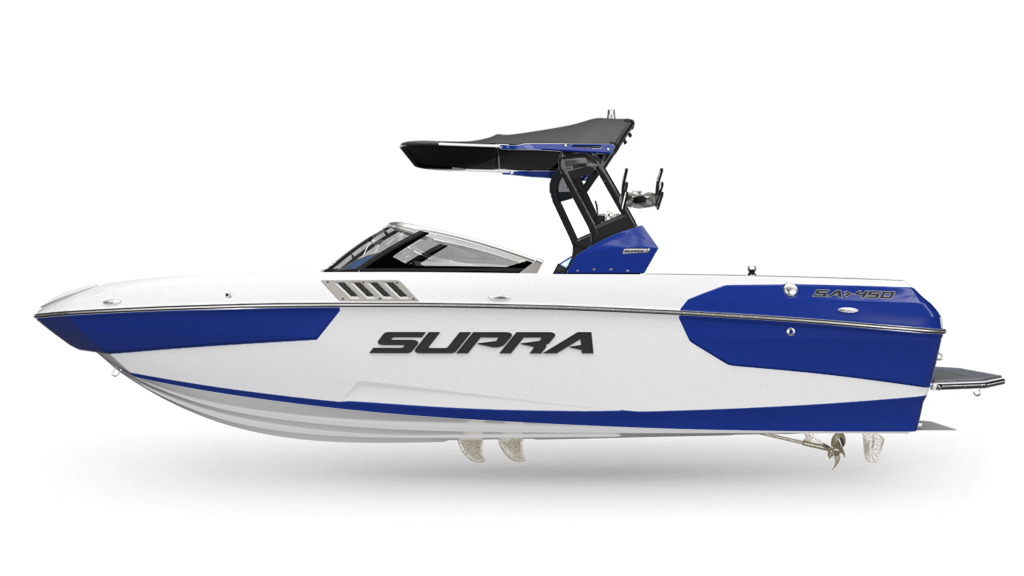 Supra SA Specifications
Length Without Platform:
6.909m
Length With Platform:
7.569m
Width:
2.591m
Draft:
0.711m
Seating Capacity:
16
Weight (Boat Only):
2,400kg
Weight (Boat & Trailer):
3,130kg
Engines:
400 6.2L Ford Raptor by Indmar
440 6.2L Ford Raptor by Indmar
575 6.2L Ford Roushcharged Raptor by Indmar
Supra SR
The all-new Supra SR is the newest wakeboat to perfectly combine our expertise of precision engineering with your passion for the water.  Featuring bold lines, refined interior comforts and a suite of wakeboard and wakesurf optimizations, the SR gives you epic rides every time.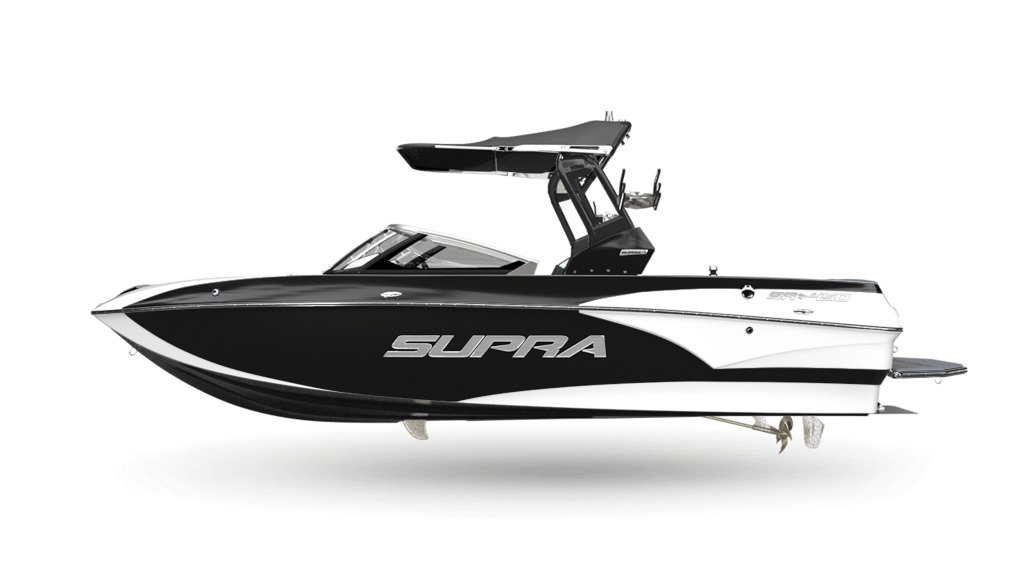 Supra SR Specifications
Length Without Platform:
6.375m
Length With Platform:
7.036m
Width:
2.591m
Draft:
0.711m
Seating Capacity:
14
Weight (Boat Only):
2,175kg
Weight (Boat & Trailer):
2,900kg
Engines:
400 6.2L Ford Raptor by Indmar
440 6.2L Ford Raptor by Indmar
Supra SG
The Supra SG is a bold take on traditional design. Providing industry-leading performance, thoughtfully refined interiors and precision-engineered features, this towboat may look traditional but its performance is anything but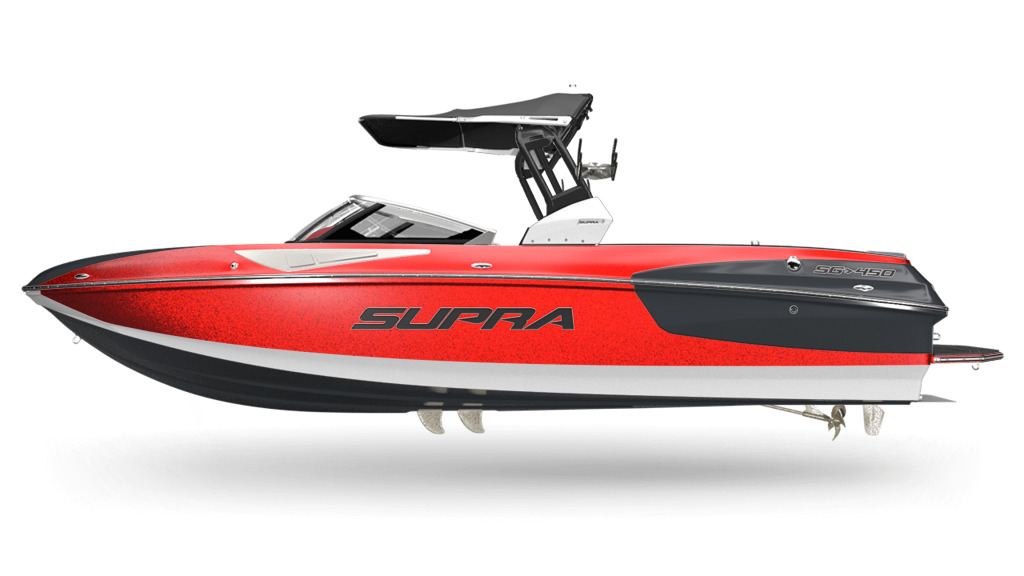 Supra SG Specifications
Length Without Platform:
7.468m
Length With Platform:
8.103m
Width:
2.591m
Draft:
0.711m
Seating Capacity:
18
Weight (Boat Only):
2,450kg
Weight (Boat & Trailer):
3,175kg
Engines:
400 6.2L Ford Raptor by Indmar
440 6.2L Ford Raptor by Indmar
575 6.2L Ford Roushcharged Raptor by Indmar
Supra SE
When you're gliding across the water in nearly twenty-five feet of world class performance, you'll understand exactly what it feels like to experience a premium wakeboat. An awe-inspiring example of how passion meets precision, the SE is the flagship of the Supra line. Providing industry leading performance, precision engineered features, refined interior comfort and bold design, the SE checks every box for the perfect wakeboat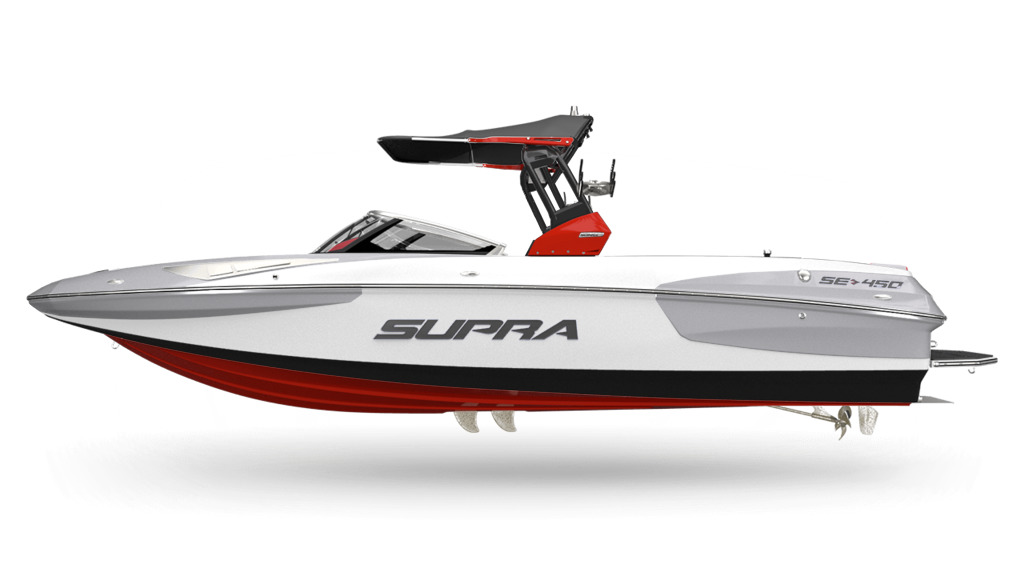 Supra SE Specifications
Length Without Platform:
6.909m
Length With Platform:
7.569m
Width:
2.591m
Draft:
0.711m
Seating Capacity:
16
Weight (Boat Only):
2,400kg
Weight (Boat & Trailer):
3,130kg
Engines:
440 6.2L Ford Raptor by Indmar
575 6.2L Ford Roushcharged Raptor by Indmar
Call us or visit our stores for friendly advice on any of our products or services
Shepparton (03) 5822 2108 or Echuca 5482 1992