DUNBIER BOAT TRAILERS
Dunbier Marine Products has been manufacturing boat trailers for over 42 years, building its reputation on quality, strength and reliability. With the Head Office situated in Braeside (Melbourne), Dunbier services the Australian market through an experienced and dedicated dealer network. Dunbier are proudly Australian family owned, operated and our trailers still made in Australia,a rarity in today's business.
Foldaway | Nipper | Sports Watertoy | Centre Line | Supa Rolla | Glider Roller | Sports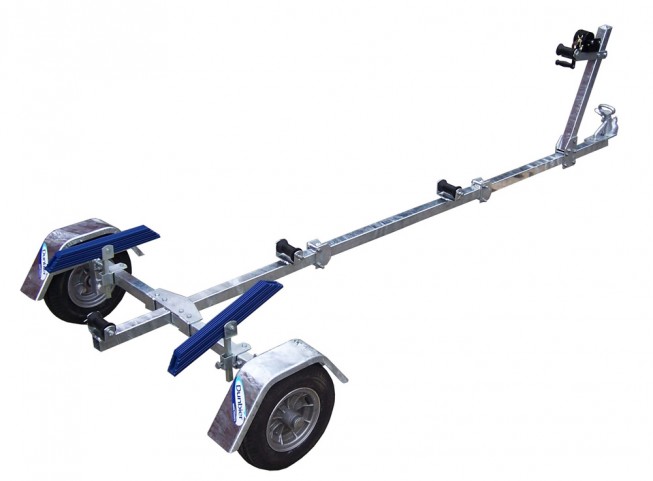 The Fold-A-Way boat trailer has no springs and it's intended design is to be transported folded up in a caravan or vehicle, then at the final destination to assemble, fit the boat to the trailer then tow a short distance to the water. The trailer is not manufactured for long highway us or continuous towing over rough terrain.

Galvanised – Australian Made
STANDARD INCLUSIONS
---
Hot Dipped Galvanised
Foldaway assembles in minutes
FOlds up to the size of a golfbag
Wheels 400×8 with standard bearings
Foldaway will meet registration requirements
Comes with Dunbier Light Board
Includes winch and winch post
TRAILER SPECIFICATIONS
Tare:
63kg
GVM:
250kgs
Length O/A:

3600mm
Width O/A:
1360mm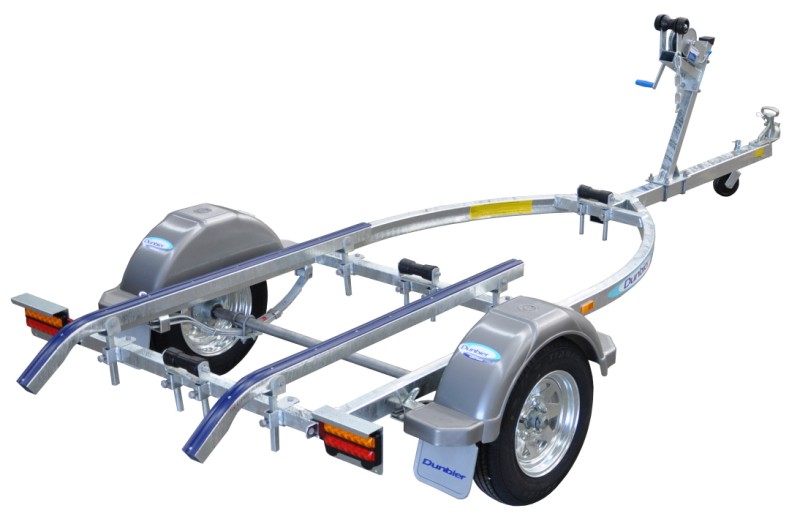 Our Nipper Series trailers suit a vast range of aluminium, inflatable and smaller fibreglass hulls. The Nipper Series can also accommodate sailing boats and now kayaks. The Nipper Series is a solid built small boat trailer for its size with a heavy duty adjustable undercarriage to last the distance. Options include short or long pads to support your boats hull and pre-loomed submersible LED lighting are standard which make this range of trailers true value for money.
TRAILER SPECIFICATIONS
Brakes:
None
Wheels:
13″
Boat (up to):

3.9m
GVM:

750kg
Tare:
170kg
Length O/A:
4240mm
Width O/A:
1770mm
The Sports Water Toy Series is extremely well built solid stylish trailer to suit today's modern watercraft.
TRAILER SPECIFICATIONS
Brakes:
None
Wheels:
13″
Boat (up to):

Most PWC's
GVM:

750kg
Tare:
180kg
Length O/A:
4175mm
Width O/A:
1755mm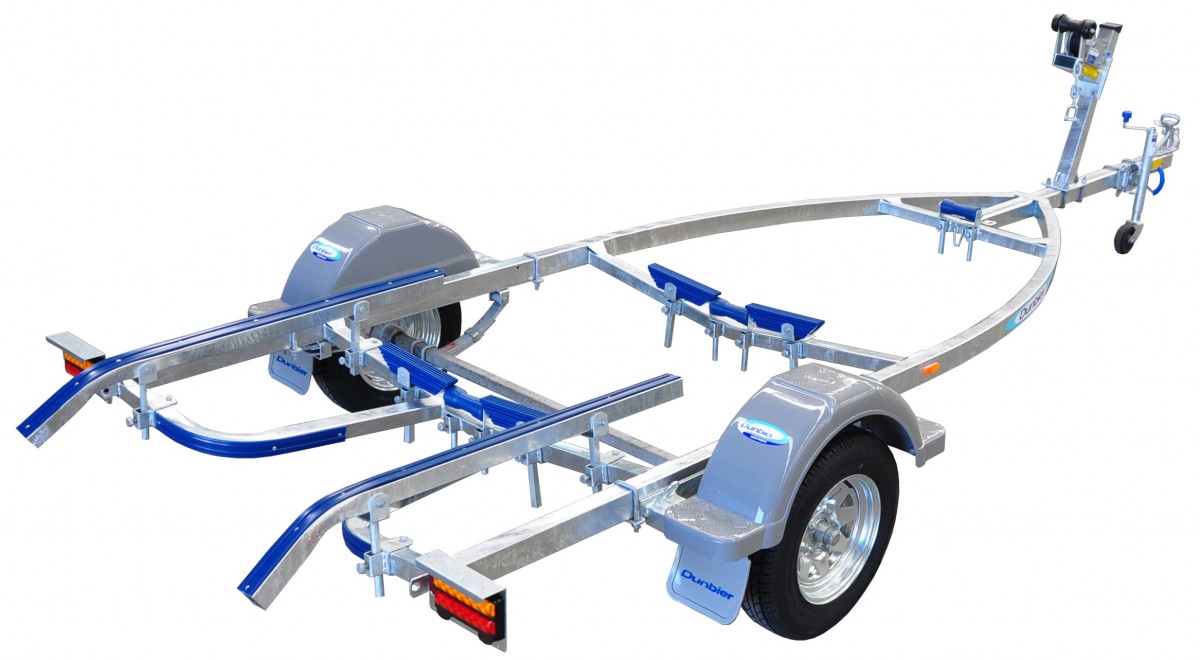 Centre Line CL4.4M-13 Trailer
The Centreline trailer is specifically designed for the aluminium boat user.
TRAILER SPECIFICATIONS
Brakes:
None
Wheels:
13″
Boat (up to):

4.4m
GVM:

750kg
Tare:
220kg
Length O/A:
5163mm
Width O/A:
2010mm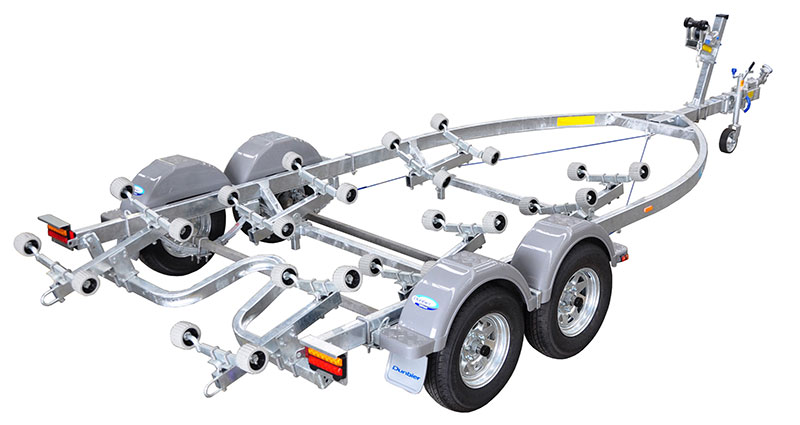 Supa Rolla SRW5.3M-13TB Wide Frame Trailer
The Supa Rolla Series is the classic self centering multi-rolla trailer. With the Supa Rolla Series, the boat can be driven on or winched on, it's your choice. The frame is designed wider to allow deep vee boats to remain low for easy launch and stable trailering. With the clever shaped rear cross member, the first of its kind on the market today, this trailer will self centre your boat in any tide or ramp conditions. Please note: Most models are available in different wheelbase variations, in single or tandem axles. Not all models are displayed. For more information enquire through our Contact Us area of this site.
TRAILER SPECIFICATIONS
Brakes:
Mech
Wheels:
13″
Boat (up to):

5.3m
GVM:

2000kg
Tare:
460kg
Length O/A:
5835mm
Width O/A:
2275mm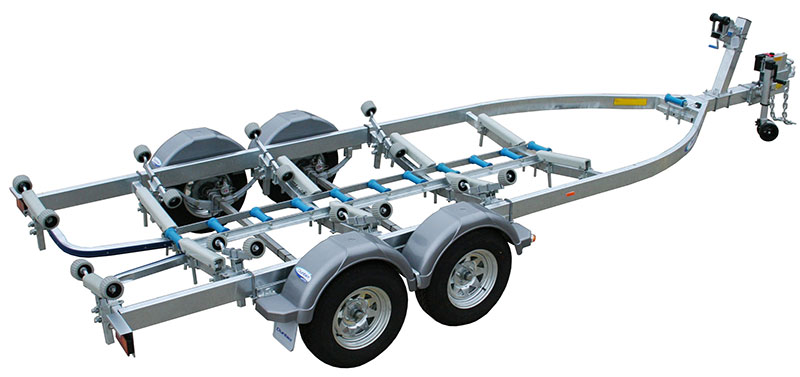 Glider Roller GR7.5M-14THE Trailer
The Glider Series is available for boats from 5.0m to 7.5m. Gliders are available in a roller version or a skid pad version.
TRAILER SPECIFICATIONS
Brakes:
Hyrdastar Breakaway
Wheels:
14″
Boat (up to):

7.5m
GVM:

3500kg
Tare:
690kg
Length O/A:
7800mm
Width O/A:
2290mm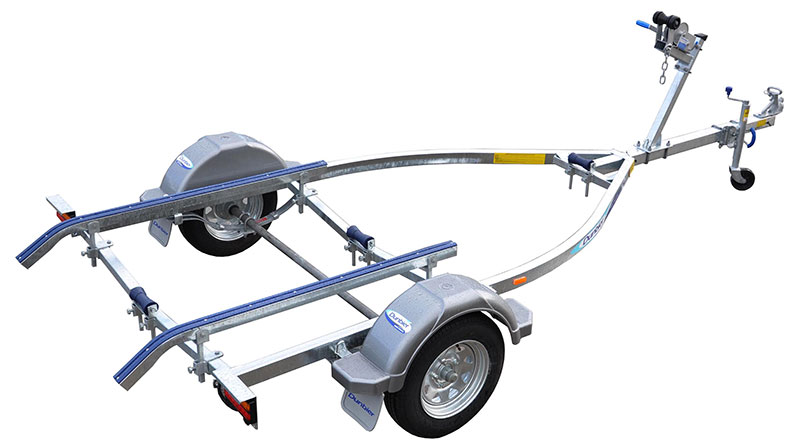 Whether you want a trailer for your tinnie or a trailer for your personal watercraft, our Sports Series has a comprehensive range of models to suit you. Don't settle for less than the extra strength, styling and quality that this Dunbier Sports Series offers. Suited for both aluminium and fibreglass hulls.
TRAILER SPECIFICATIONS
Brakes:
None
Wheels:
13″
Boat (up to):

4.3m
GVM:

750kg
Tare:
190kg
Length O/A:
4760mm
Width O/A:
2080mm
Call us or visit our stores for friendly advice on any of our products or services
Shepparton (03) 5822 2108 or Echuca 5482 1992