After two weeks away fishing I sat down with Robin and Blake Knaggs to talk all things barramundi and fishing the rivers up North.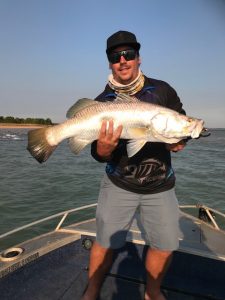 Starting the trip in the iconic Daly River, the guys spent the week predominantly trolling the big lures, covering maximum ground in search of the might barra.
Both Robin and Blake found success trolling Reidy's Big Ass B52 and the Barra Classic 160 +10ft.
Spending the week with mates Mick, and Craig from Compleat Angler Wangaratta, the guys managed to catch barra in the 80's with Robin's best being 90cm and Blake's an 83cm, but It was Craig who stole the show with a 114cm to claim biggest fish of the trip.
The second week was spent on the Moyle River system using a mothership as a base. The guys flicked a range of soft plastics with the Samaki and Jackall vibes proving to be effective especially in the small run off creeks at the top of the system.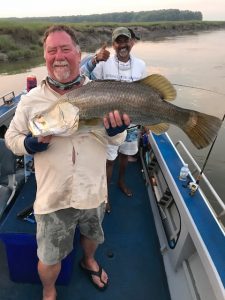 Both Blake and Robin used Daiwa reels, with both opting for the Zillion for flicking and the Lexa 300H for trolling the bigger lures.
For the Barra, Blake used a Loomis rod, while Robin used a Venom. Both used a 6-8kg rod for the Barra. They said their number one tip for anglers heading up north is "pack plenty of spare leader and braid and be sure to tie good knots as The Barra don't play fair".
The boys did some reef fishing and also managed to catch some queenies and a cracking rock cod was hooked by one of the guys in the group.
Robin and Blake both had a great time away fishing and look forward to the next trip.
The boys' trip!